Our Elementary Kids program exists to provide safe, nurturing, and engaging environments where kids discover God!
We value each and every child and celebrate how unique God created them to be.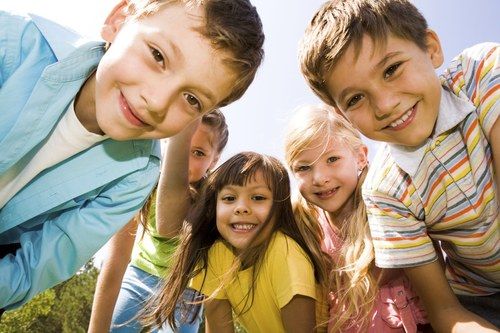 1st - 6th Grades | Upper Level
1st - 4th Grades | Upper Level
5th - 6th Grades | Pier 56, Lower Level
1st - 12th Grade Boys | Royal Rangers
1st - 8th Grade Girls | Brave Hearts
Elementary Kids Bible Study | 1st – 6th Grades
@ 8:45 AM Sunday | Upper Level
Our early service is an opportunity for kids to dig deeper into God's Word and see how God's Big Story is still a part of our lives today. This intimate small group is a place where we dive into the week's lesson through interactive story telling and work to build relationships through crafts and games.

Elementary Kids Celebration Service | 1st- 4th Grade
@ 10:30 AM Sunday | Upper Level
Our celebration service is a fun time filled with worship, interactive story telling, small groups and fun games and activities focused on digging into God's Word. This experience seeks to encourage children in their relationship with Christ while building relationships with leaders and friends.
Leader: Becky Winn
Brave Hearts for Girls | K – 8th Grade
@ 4:00 PM Sunday | Upper Level
Brave Hearts is a small group for girls and their moms. In this scouting merit-based group, girls will grow in their faith, Bible knowledge, and life skills – all while being active and having fun. Some activities include: marshmallow fun night, camping, Rawhide Ranch, Diva pampering night, and Pinewood Derby Race. This group compliments the boys Royal Rangers program that meets on the same day and time. The cost for the Brave Hearts program is $100 for the year. You can pay the full amount up-front or make a deposit of $30 and set up a payment plan for the balance. The $100 includes a T-Shirt, Bag, and Dues for crafts and small group activities.
Leaders: Natalie Harber and Gwen Blankenship
Royal Rangers for Boys | K - 12th Grade
@ 4:00 PM Sunday | Lower Level
Royal Rangers is a mentoring ministry for future men, providing Christ-like character formation and servant leadership development for boys and young men in a mentored and fun environment. The Royal Ranger mission is to evangelize, equip, and empower the next generation of Christ-like men and lifelong servant leaders. The cost for the Royal Rangers program is $100 for the year. You can pay the full amount up-front or make a deposit of $30 and set up a payment plan for the balance.
56 | 5th & 6th Grades
@ 10:30 AM Sunday | Lower Level in Pier 56
This is a high energy setting for preteens with godly leaders who love working with kids and leading them to Christ through Bible study, thoughtful discussion, engaging games, intentional relationship building time, student leadership, and more. Preteens are placed into age/gender based groups with leaders who stay with them for the two years they are in 56. Mentoring is the focus of these leaders as they get to know and interact with the kids. Follow us on our Facebook Page!
If you have any questions about 56, feel free to contact 56 Coordinator, Matt Noble
If you have questions about any of our Elementary Kids programs, please contact Steven Hinojosa, Early Elementary Coordinator
.
As a child walks into the room, he is greeted by a few of the leaders who might be dressed as Secret Agents or Camp Counselors (depending on our series theme). Their joyful and welcoming demeanor draws even the timidest of kids into the Kidtropolis environment.

Once a child is welcomed and signed in, he is introduced to his small group leader who will guide him into the Kidtropolis Room filled with games and activities that set up the Bible Big Idea of the morning. To a child, it looks like fun and games (which it is) but to the Kidtropolis Team, the activities are cultivating fertile ground for learning.

About 15 minutes into the service, the children are all called into their small groups for an initial activity to further set up the BIG IDEA of the morning. Each small group leader works to engage their group of children in this early learning and help to connect them with one another as well. (Building friendships is important!)

Soon, a musical chime sounds and the children re-enter Kidtropolis to discover that the space has been transformed for a big group lesson. The Worship Leaders come forward and begin leading kid-appropriate, high-energy, celebratory worship songs.

Next comes a learning experience where kids will see our drama team introduce the concept through a comedic skit while the Big Group teacher pulls the Big Idea together for the children through visuals, reenactment or a hands-on activity.

Kids have been seen walking through the Red Sea like the Israelites did when they were escaping Egypt, holding Moses' rod up as Moses did during the battle of the Amalekites, taking the Seder meal as Jesus did at the Last Supper, wearing superhero capes because God's power makes them strong, and much more!

The children then return to small groups to bring closure to the morning while doing something like making manna pizzas, wrapping a gift to give away, dialoguing about the Big Idea - the kids discover the connections between the stories in God's Word and their lives through this amazing experience!